Overview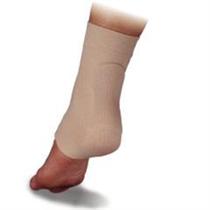 The Achilles tendon is the largest tendon in the body. Tendons are long, tough cords of tissue that connect muscle to bone. The Achilles tendon is located in the back of the foot and connects your heel bone to your calf muscle. It helps you to walk, run and jump. The Achilles tendon is able to endure stress, but sometimes injury can occur to the tendon when overly stressed. Overuse of the Achilles tendon may cause the tendon to swell, become irritated, inflamed and cause pain. This is Achilles tendinitis. It is a common sports injury related to running, but can happen to anyone who puts a lot of stress on their feet (e.g.: basketball players and dancers). If you do not get treatment for Achilles tendinitis, the problem can become chronic and make it difficult for you to walk.
Causes
Tendinitis typically develops after abrupt changes in activity or training level, use of poorly fit or worn footwear, or training on uneven or dense running surfaces. Overuse prior to sufficient training is generally the cause. This is due to forces 8-10 times the body weight acting on the tendon during physical activity. Achilles injuries range from inflammation to a breakdown in the tendon. Pain is generally felt low on the back of the heel due to the low vascularity and susceptibility for inflammation. Pain higher on the Achilles is generally more muscular pain and less tendonitis. If swollen spots or knots are found along the tendon, or if the tendon feels jagged, cease activity and seek professional medical care.
Symptoms
Symptoms of Achilles tendinitis and tendinosis include recurring localized heel pain, sometimes severe, along the achilles tendon during or after exercise. Pain often begins after exercise and gradually worsens. Morning tenderness or stiffness about an inch and a half above the point where the Achilles tendon is attached to the heel bone. Sluggishness in your leg. Mild to severe swelling. Stiffness that generally diminishes as the tendon warms up with use.
Diagnosis
Physicians usually pinch your Achilles tendon with their fingers to test for swelling and pain. If the tendon itself is inflamed, your physician may be able to feel warmth and swelling around the tissue, or, in chronic cases, lumps of scar tissue. You will probably be asked to walk around the exam room so your physician can examine your stride. To check for complete rupture of the tendon, your physician may perform the Thompson test. Your physician squeezes your calf; if your Achilles is not torn, the foot will point downward. If your Achilles is torn, the foot will remain in the same position. Should your physician require a closer look, these imaging tests may be performed. X-rays taken from different angles may be used to rule out other problems, such as ankle fractures.
MRI
(magnetic resonance imaging) uses magnetic
waves
to create pictures of your ankle that let physicians more clearly look at the tendons surrounding your ankle joint.
Nonsurgical Treatment
As with most soft tissue injuries the initial treatment is RICE - Rest, Ice, Compression and Elevation. In the early phase you?ll be unable to walk without a limp, so your Achilles tendon needs some active rest from weight-bearing loads. You may need to be non or partial-weight-bearing, utilise crutches, a wedged achilles walking boot or heel wedges to temporarily relieve some of the pressure on the Achilles tendon. Your physiotherapist will advise you on what they feel is best for you. Ice is a simple and effective modality to reduce your pain and swelling. Please apply for 20-30 minutes each 2 to 4 hours during the initial phase or when you notice that your injury is warm or hot. Anti-inflammatory medication (if tolerated) and natural substances eg arnica may help reduce your pain and swelling. However, it is best to avoid anti-inflammatory drugs during the initial 48 to 72 hours when they may encourage additional bleeding. Most people can tolerate paracetamol as a pain reducing medication. As you improve a kinesio style supportive taping will help to both support the injured soft tissue.
Surgical Treatment
Most people will improve with simple measures or physiotherapy. A small number continue to have major problems which interfere with their lifestyle. In this situation an operation may be considered. If an operation is being considered, the surgeon will interview you and examine you again and may want you to have further treatment before making a decision about an operation. Before undergoing Achilles tendonitis surgery, London based patients, and those who can travel, will be advised to undergo a scan, which will reveal whether there is a problem in the tendon which can be corrected by surgery. Patients will also have the opportunity to ask any questions and raise any concerns that they may have, so that they can proceed with the treatment with peace of mind.
Prevention
Do strengthening and stretching exercises to keep calf muscles strong and flexible. Keep your hamstring muscles flexible by stretching. Warm up and stretch adequately before participating in any sports. Always increase the intensity and duration of training gradually. Do not continue an exercise if you experience pain over the tendon. Wear properly fitted running and other sports shoes, including properly fitted arch supports if your feet roll inwards excessively (over-pronate).